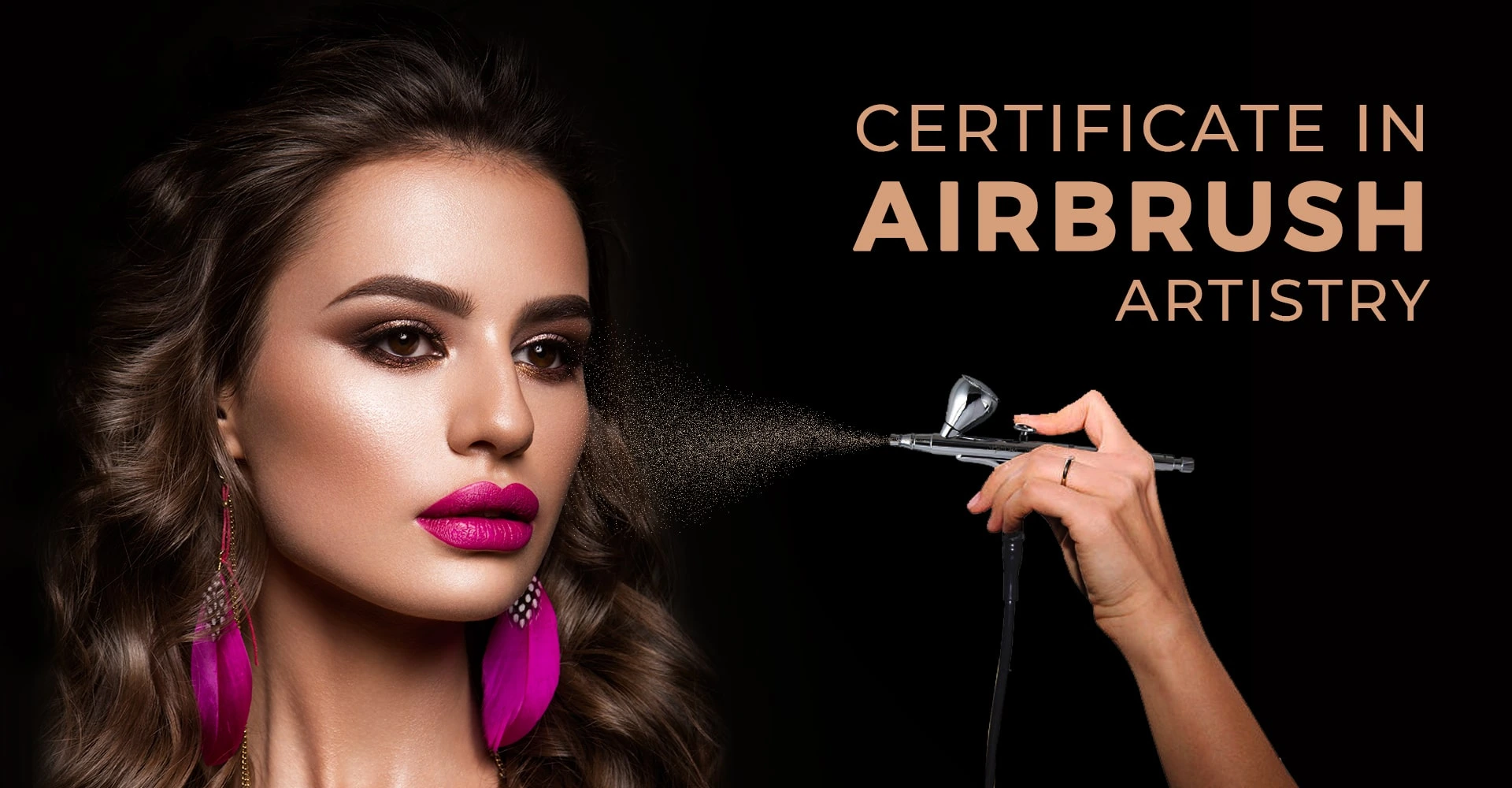 Certificate in Airbrush Artistry
Join the best academy in India for learning all about Airbrush Make-Up. Learn the art of flawless finished, natural-looking, lightweight, and water-resistant make-up at MSTC.
Used as early as in the 1930s in Hollywood, Airbrush make-up is the most advanced form of make-up in the Indian sub-continent. Airbrush Make-Up is sprayed onto the skin using an airbrush machine instead of being applied with sponges, brushes, fingers, or other methods. Make-Up is characterized by its unique 'globular' application technique. The Make-Up is dispersed as an extremely fine mist through the airbrush gun. This makes airbrush Make-Up to be a thin, light layer on the skin that is barely noticeable to the wearer.
A typical airbrush system uses a compressor to create airflow through a hose connected to a trigger-controlled spray painting gun. The airbrush pressure can be adjusted to apply various types of Make-Up such as lighter, heavier, or more detailed styles. Airbrushes are used in Film, Theater, Bridal Make-Up, and Sunless tanning.
The thorough and industry-oriented airbrush makeup classes begin with basic knowledge of using an airbrush gun and carefully proceed on to creating a flawless skin base, concealing, highlighting facial features, and finally to contouring using blush and bronzers. Once the learner is acquainted with the uses of the airbrush techniques, the trainers help makeup artists specialize in art like Bridal Airbrush Makeup, Occasion Makeup, Party Makeup, Fashion & Media Makeup.
Talking about the benefits of learning about Airbrush make-up, it has become more popular with the advent of high-definition video and television (HD). Traditional powder or liquid-based make-up can settle and appear in pores and wrinkles can be visible on HD film. As the makeup is sprayed on, it connects with the skin as millions of droplets of formula. The formula can create an even, sheer, natural appearance to the skin that, if applied properly for a natural look, can appear natural and non-heavy like traditional makeup. Airbrush makeup wears longer than traditional powder or liquid foundation and can stay put upwards of 12–24 hours. Airbrush makeup is also available for eye shadow, blush, eyebrows and lips and can be layered, shaded, highlighted and contoured. Application-wise, the technique is more sanitary than traditional makeup application due to the artist never having to touch the skin. It's also faster if done by a trained artist. Fantasy and special effects can be stenciled or created by freehand.
So, come and learn at the best makeup training academy in India.
MSTC offers an extensive course on Airbrush make-up that aims at teaching its learners all about the Airbrush and its techniques. Delivered by a group of exceptional trainers, the course teaches the following:
Machinery Overview- How to operate Compressor and the Airbrush Gun

Maintenance and Cleaning Process

Working at different Airflow Levels using Practice Sheets

Colour Theory, Colour Correction & Camouflaging

Airbrushed HD Foundation

Airbrushed Contouring & Highlighting

Airbrushed Eye Make-Up

Airbrushed Lips

Complete Airbrush Glam Look

Complete Airbrush Bridal Look
Think beyond merely getting an Airbrush Makeup, think about getting an accredited certificate in Airbrush Artistry. Join the exceptional academy in India for learning everything about Airbrush makeup. Embrace the art of finished, lightweight, flawless and water-resistant makeup at MSTC. By the way,did you know that Airbrush Makeup artistry began way back in the 1930s in Hollywood. It is the highly advanced makeup technique across the Indian sub-continent. Get the Airbrush makeup training from MSTC.
Airbrush Makeup is usually spritzed onto the skin via airbrush machine rather than conventional sponges, brushes or other other methods. Airbrush Makeup has a globular application technique. The Makeup settles finely as a delightfully fine mist with the help of an Airbrush gun. This turns out to be a light layered makeup on the skin that looks like second skin to the passer-by.
Education Hours
Monday to Saturday from 10 AM – 5 Pm
Total Duration : 4 Days
Education Hours : 28 Hours
Total Education Fee
 ₹17,700 ( ₹15,000 + 18% GST)
Payment Plan
Registration Amount :

₹

5,000 (It is the part of total course fee)
Remaining Amount:

₹

12,700 ( On the 1st day of class)
NEXT BATCH DATES
Delhi Training Center:
Announcing Soon
Kolkata Training Center:
Announcing Soon
*Dates Subject to change depending on the government rules on Covid19 precautions for Educational Institutions in India.