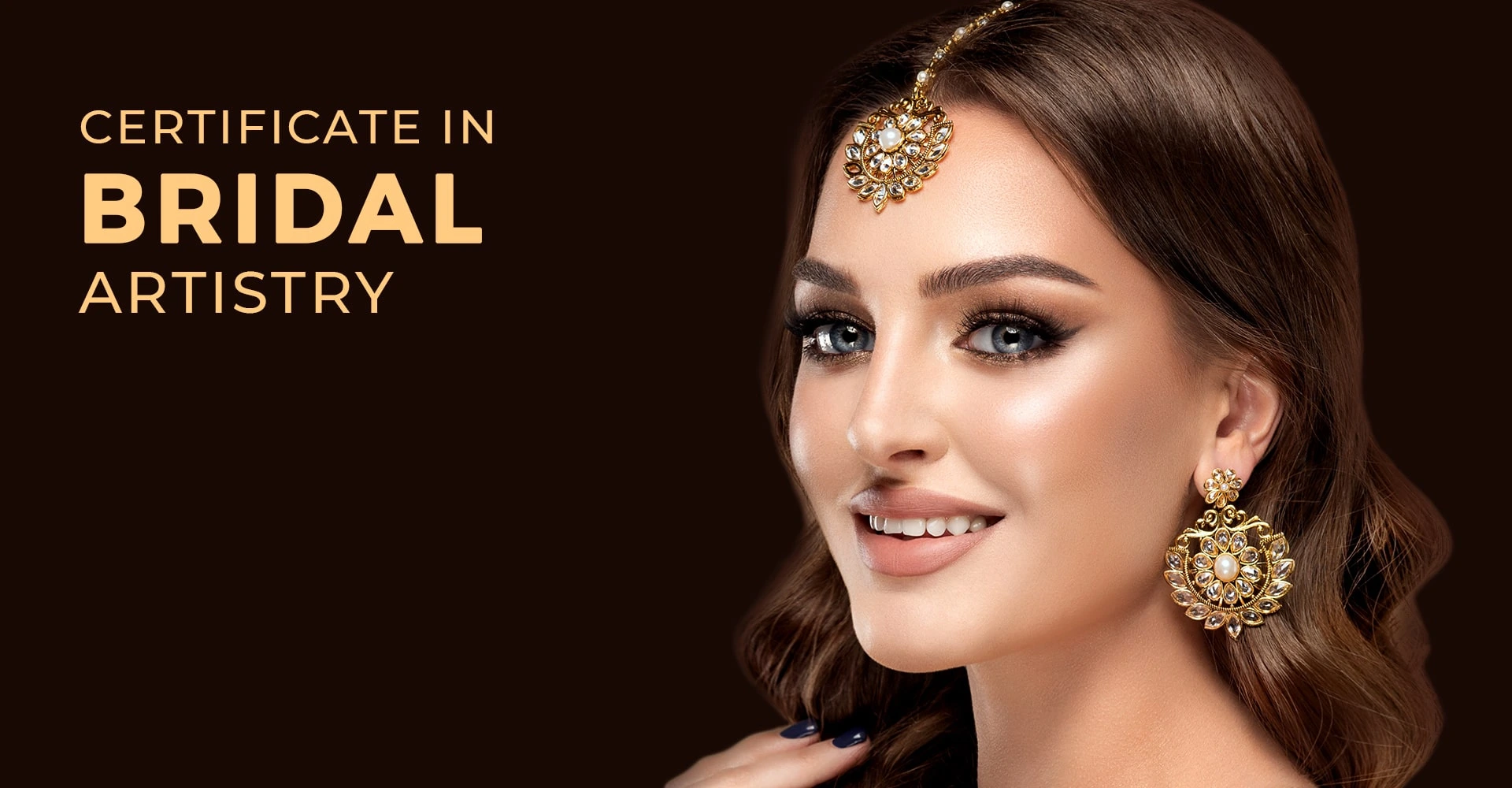 The wedding day is one of the most important days of a woman's life. Every bride aspires to have a wedding that is nothing short of a fairy tale. A whimsical wedding attire, assorted jewellery and perfectly crafted make-up is what makes a bride look picture-perfect on her D-day.
On the other hand, to be able to make a bride look perfect on her special day is a skill in itself. A Bridal Make-Up artist is well equipped and trained to step in the shoes of the bride and create a look according to the bride's personality and the theme of her wedding. The range of Bridal Make-Up skill set is infinite and filled with endless possibilities, this is why a Bridal Make-up Artist should be well versed with the use of right equipment, products and techniques.
To advance as a Bridal Make-Up Artist in your career, the foremost step is to attain the required knowledge and for this, you can start through enrolling in a bridal make-up course that promises to deliver the knowledge of new and contemporary techniques.
The Bridal Make-Up Course at MSTC blends creativity with technical skills and promises to polish you into a professional who knows the principles and fundamentals of make-up in an extensive manner. The assortment of trainers at MSTC are experts in almost all of the domains of Bridal Make-Up Artistry and that is why the course covers Regional Traditional Bridal Make-up, Sagan Day Make-Up Look and a theme based Bridal Make-Up Look. With its centres spread all over the nation, you can opt to enroll for the classes in Delhi, Mumbai and Kolkata.
Courses at MSTC
MSTC offers two bridal make-up courses at its academy. The first one is a 4 day long bridal make-up course which involves different techniques of eye make-up, product knowledge and color theory. The course offers a wide range of bridal looks to learn about such as reception bride, traditional bride, contemporary bride and theme based bride. The mentors of the Bridal Make-Up course are exceptionally skilled professionals with years of experience in the field.
Another bridal course that you can opt for at MSTC is Bridal Trends. The course is inclusive of Bridal and Hairstyling which lasts for 5 days. The course is divided into 5 days with each day having different approaches.
First day is dedicated to Day Bride Look, on second day we teach a proper Traditional Bridal Look, the third day is dedicated to Arabic Bridal Look and forth day caters to Reception Look and with each Make-Up Demo we also teach different Hair Styles which helps our students to complete their Bridal looks. On last day which is fifth Day, students practice their full look and Trainers guide them on each step.
Career Options
After a course in Bridal Make-Up Artistry, you will have a variety of career options. You can start as a freelancer and provide your services. Due to the vast knowledge in the field imparted by MSTC you will never run short of projects.
Apart from freelancing, you can have your own business wherein you can work as a consultant and counsel the brides for a suitable Make-Up look. Later, you can offer Make-Up services accordingly.
You can also work at a Beauty Salon or Studio as a specialized Bridal Make-Up Artist and deliver your services to the clientele of the salon. This is usually a very stable form of earning and provides certainty of funds.
CURRICULUM
MSTC offers an extensive course on Bridal Make-up that aims at teaching its learners different bridal looks and techniques for an extraordinary results. Delivered by a group of exceptional trainers, the course teaches about:
Planning a bridal look according to client's needs
Bridal Consultation & Checklist
Designing Make-Up according to bridal outfit & function
Sagan/Engagement Bridal Look
Traditional Bridal Look
Reception/Cocktail Bridal Look
Hands on practice
The mentors of the Bridal Make-Up course are exceptionally skilled professionals with years of experience in the field.
Get recognized certification in best bridal makeup from MSTC. After turning into a makeup expert professional, you can launch your own bridal makeup packages for the perfectly crafted bridal look. Every bride wants to look flawless and fabulous on her D-Day. We make you well-equipped to become a bridal makeup artist who is exceptionally trained to understand the requirements of the bride and create a stunning look complimenting her personality and the theme of her wedding. The Bridal Makeup is so expansive and filled with infinite possibilities, therefore we want you to be well-versed with the use of appropriate equipment, techniques and products.
Get adept at Professional Bridal Makeup by learning the tricks of the trade, the secrets nobody will tell you about, the details, the analysis, from basics to advanced, we cover new to contemporary techniques and makeup knowledge. The diversity of trainers at MSTC are pioneers in nearly every domain of bridal makeup artistry and this is why the course entails Regional traditional bridal makeup, Sagan Day Makeup look and a theme-oriented bridal makeup look.
Education Hours
Monday to Saturday from 10 AM – 5 Pm
Total Duration : 4 Days
Education Hours : 28 Hours
Total Education Fee
 ₹ 17,700 (₹15,000 + 18% GST )
Payment Plan
Registration Amount :

 

₹

5,000 (It is the part of total course fee)
Remaining Amount:

₹

12,700 ( On the 1st day of class)
NEXT BATCH DATES
Delhi Training Center:
Announcing Soon
Kolkata Training Center:
26th Sep 2023
*Dates Subject to change depending on the government rules on Covid19 precautions for Educational Institutions in India.