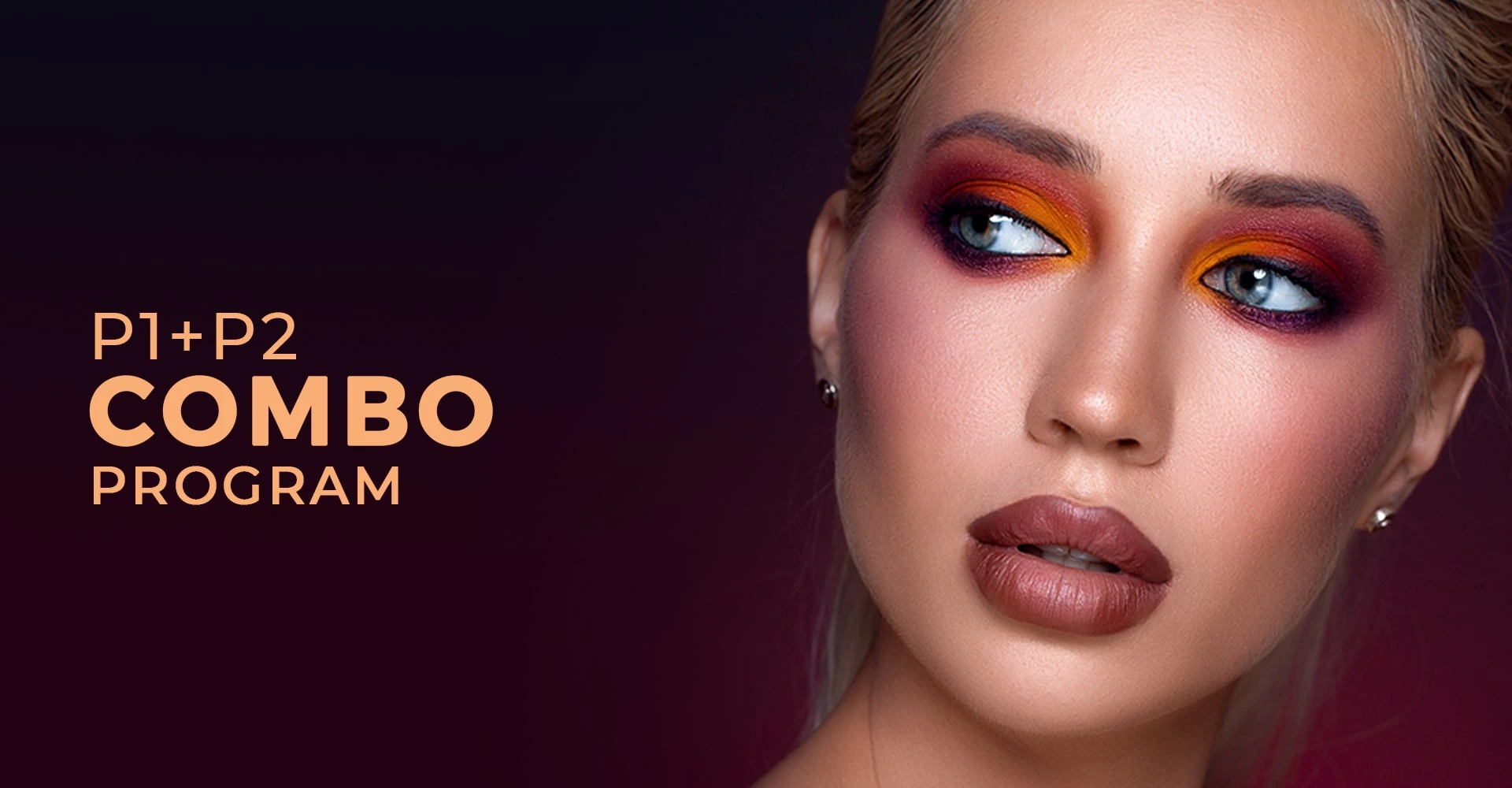 Make-Up Studio Training Center brings to you a blend of make-up artistry and hairstyling course, 'CMA and Hair (Combo)'. The course is conducted by experts from national and international provinces and the training is conducted on a daily basis in the academy pertaining to the experiential learning approach. If your ambition is to be a professional MUA and hair stylist, our course at MSTC is the perfect answer to all your aspirations. The academy has carefully designed techniques and curriculum which is perfect for beginners as well as experts.
The course, CMA and Intensive Hairstyling introduces the students to make-up and hairstyling theoretically and covers concepts such as different kinds of skin, colour theory, comprehension of precise and apposite skin care, knowledge of the products, facial analysis and its correct measures, highlighting and shading, playing with the hues, proper sanitization of the tools, cosmetic research and analysis. It also provides the knowledge of a variety of professional make-up products and their respective application techniques. In addition to this, our team of specially picked trainers has been professionally working in the beauty and hair industry for over a decade and now aspire to divulge the skill set amongst our students through MSTC.
Another exposure that the course guarantees to deliver is of dealing with the clients. It makes sure that you are prepared for all the aspects of the make-up artistry profession so it trains you to the tricks of consulting with the clients, negotiating with them and dealing with their queries.
During the course, you will be trained to create different hairstyles for various occasions. We will work one on one with you as you learn, beginning with the basics and then progressing into more advanced techniques. Our curriculum is perfect for artists who are pursuing work in bridal, private clients, special occasion, fashion, and film. The benefits of this course provide extended career opportunities, increasing your professional skills.
CURRICULUM
Learning make-up & hair helps you to style the overall look of the client with extra satisfactory results. You will surely have more opportunities if you master in both make-up & hair.
Topics covered under make-up:
Role of a Make-up Artist?
Career and Various Fields
Tools of the Trade, Health and Safety Practices
Evolution of Make-Up
Basics of Skin, Face Anatomy, Colour Theory
Product Knowledge
Colour Correction & Facial Correction
Basics of Foundations
Principles of Glamour Make-up
Basic Eye Make-up- 2-tone, 3-tone
Monochromatic & Polychromatic Eyeshadow Application
Classic Smokey, Gradient Smokey, Shimmery Smokey Eyes
Different styles of eyeliners
False Lashes, Eyebrow shaping & Glitter Application
Working with Liquid Foundations
Face Enhancements- Highlighting, Contouring, Blusher
Lip Filling- Nude to Deep
Make-up for Mature Skin
Make-up for Males
Concepts of Bridal Make-Up
Sagan/Engagement Bride
Traditional Bride
Reception/Cocktail bride
Art of Airbrushing
Airbrush Machine Maintenance & Usage
Glam Airbrush Look
Bridal Airbrush Look
Art of Fashion Make-up- Runway Looks, Face Charts
Period Make-Up, Avant Garde
Natural vs. Neutral
Art of Fantasy Make-up
Theatrical & Theme Based Looks
Basics of SFX- Cuts, Burns, Bruise
How to make your CV?
Portfolio Development
Topics covered under hairstyling are:
Product & Tools of the Trade, Hair Textures, Shampoo & Conditioning
Techniques of Blow Dry
Use of Velcro Rollers
Open Hair Styling, Use of Hot Rollers
Different Styles of Braids: Regular, French, Fish Tail, Water Fall, Dutch Braid
Techniques of Back Combing (Tease with Ease)
Messy Buns (Side & High)
Basic & Advance Bridal Bun, French Bun
Types of Ponytails: Sleek, Unicorn or Fish
Buns with Lining Technique
Hollywood Waves Styling
Criss Cross Waves Styling
Vintage Waves Styling
Mermaid Inspired Hairstyling
Education Hours
Monday to Saturday from 10 AM – 5 PM
Total Duration : 56 Days
Education Hours : 392 Hours
Total Education Fee
₹ 1,47,500 (₹ 1,25,000 + 18% GST )
Payment Plan
Registration Amount : ₹ 10,000 (It is the part of total course fee).
First Payment: ₹ 70,000 ( On the 1st day of class)
Second Payment: ₹ 67,500 (On 4th Day of class)
Come with a creative mind & Let us take care of everything else.
Course Includes :
Theory Notebook
19 pcs Professional Brush Set for practice.
Unlimited use of Make-Up Products.
Essentials for Your Workstation.
2 Professional Photo-Shoots
Photo-Shoot Models & Garments
Recognized Certification.
Career Guidance
NEXT BATCH DATES
Delhi Training Center:
21st Nov 2023
Kolkata Training Center:
27th Nov 2023
*Dates Subject to change depending on the government rules on Covid19 precautions for Educational Institutions in India.
Looking forward to gaining proficiency in hair and makeup? Makeup Studio Training Centre introduces the perfect amalgamation of makeup and hairstyling course from renowned experts, we've got you covered for every nitty-gritty you wish to learn. Step into the world of glamor, where you can get exposure to global fashion and master the art of eye-popping fantasy makeup, pick between vintage or traditional bridal makeup. You get to experience a magical world where you get to learn from the hands of pioneers. Be prepped up for mastering 3 tone makeup, different eyeliner styles, makeup for males and mature skin and latest eye-popping hairdos. Sharpen the art of braids, updos, buns, hollywood and criss cross waves.
The course is inclusive of theory notebook, 19 pieces Professional brush set for practice, essentials for your workstation, 2 professional photo-shoots, recognized certification, career guidance, unlimited use of makeup products. Enroll now.