It is undoubtedly every brides' dream to look like a million bucks on her big day and there are always a plethora of looks a bride has in her mind before her wedding. Here are some tips for a professional makeup artist, it is important to understand your bride's preferences, her background and her attire in order to create a look that compliments and suits her personality. Assessing your bride's skin type and her primary concerns are also factors that you should consider before starting. It is essential to have a good understanding and practice of the latest trends and techniques to stay relevant as a makeup artist and create looks that leave everyone in awe.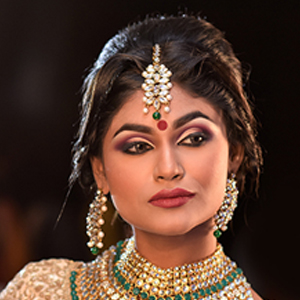 India, being the culturally diverse country it is, has different customs and traditions for different brides and naturally they all dress up in a unique manner that speaks of their heritage and conveys their love for their culture in a unique and distinct manner. North Indian brides tend to opt for glamorous looks with bold lips to complement their heavy Red Banarasi Saris and detailed designer lenghas. For the quintessential South Indian bridal look, a minimal makeup look that enhances their natural beauty will seamlessly compliment the bride's silk saree and traditional gold jewelry. Rajasthani brides look no less than a maharani on their D-day and their looks are absolutely iconic. Bengali brides have a distinct elegance that makes them stand out. Often dressed in traditional sarees, their look always features a prominent red bindi, a classic red lip and eyes rimmed with bold kajal strokes. Maharashtrian Makeup is slightly different from the rest of the country. The simplicity and the elegance of, maharashtrian brides, speak for themselves. The eye-catching moon shaped Bindi design is undoubtedly the main attraction of the entire look.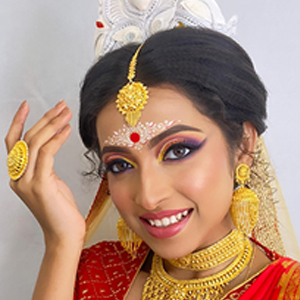 To get the healthy-looking glow that every bride wants, a good make-up artist always starts with skincare. If you prep your skin and apply high-quality makeup products from your kit, your makeup will stay on all day. Many reputable wedding makeup professionals offer bridal hair and a makeup touch-up kit as part of their services. You should always carry facial tissues, little sponges, oil-blotting sheets, hair spray, and bobby pins with you. It's a small gesture, but it looks very professional and conveys that the bride is in capable hands. Be willing to travel and always be cheerful when you visit a client. Keep in mind that this is the bride's wedding day, so don't be too preoccupied with applying makeup; instead, be nice and friendly to the bride and try to make her feel wonderful. Always keep in mind that your attitude and communication style are very important.
Before beginning your journey as a bridal makeup artist, it's a good idea to invest in professional makeup courses like the ones we offer at Makeup Studio Training Center. To make a bride look perfect on her special day is a skill in itself. The range of Bridal Make-Up skill sets is infinite and filled with endless possibilities, this is why a Bridal Make-up Artist should be well versed with the use of right equipment, products and techniques. Our course promises to deliver the knowledge of new and contemporary techniques that will help you advance your career as a successful bridal makeup artist.