Although we may not all be skilled makeup artists, there are several straightforward and easy-to-perfect eye makeup techniques that will instantly raise your game. Makeup artistry is by definition an art. Here are five eye makeup tips that will enhance your makeup game, from our ride-or-die eyeshadow approach to the stellar winged eyeliner hack that everyone needs to know.
The gorgeous halo eye: The halo eye is the perfect way to enhance your look because it quickly widens and accentuates the eye. Additionally, once you master the fundamentals, the approach is incredibly versatile because you can experiment with a variety of textures, colours, and even negative space or the addition of a graphic line. In order to get this makeup effect, light or bright colours are used in the middle of the eyelid and are contrasted with darker shades on either side.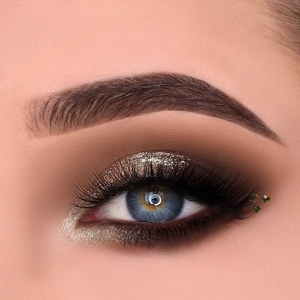 First, create the contrasting shadow on the inner and outer corners of the lid to achieve a faultless halo effect. Pack the eyeshadow onto the outer corner of your eye and blend it into your crease using a small fluffy brush. Apply the darker shade along your bottom lash line as well for added drama.
Then proceed to pack the eyeshadow onto the lid with a flat brush using little tapping motions for the halo, where you want the colour to pop, and then smooth outward for a less defined, blended finish. Finally, to enhance the halo look even more, put a little shimmer directly below the halo on your lower lash line to bring out its radiance.
Just wing it: Using a post-it is one of the easiest liner tricks for nailing the precisely angled wing! Although it's quite simple, it makes the entire procedure all the more simpler. The post-it edge should first be applied along the lower lash line, angled up toward the end of your brow. Create your wing using this edge as a guide. Peel off the post-it cautiously after the liner has had time to dry. Then, make a line from your top lash line to where your wing ends. This hack is excellent for new users. Additionally, it also makes it simpler to draw the wing free-hand if you've mastered the proper angle!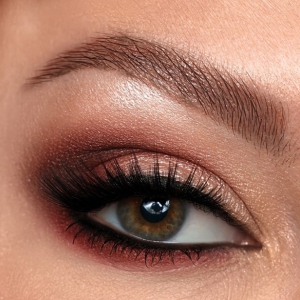 Brighten up your under eye: This technique is perfect if you feel like your concealer never gives you the coverage you want. The tip is surprisingly easy to use and increases the intensity of even your medium-coverage concealers, leaving your eyes looking bright and making your makeup shine. Apply a tiny coating of concealer first to the areas you wish to cover, keep it on for one to three minutes then proceed to blend it. Basically, this "drying" time aids in the concealer setting on your skin so that when you attempt to blend, it's practically semi-dry, preventing it from vanishing into your makeup sponge thereby giving you full coverage.
Flutter those voluminous lashes: Making your lashes longer and fuller will add drama to your eye makeup. Just a few applications of mascara will lengthen your lashes and give the appearance that your eyes are wider. You can pick a mascara based on its desired effect, such as volumizing, lengthening, or curling. To give your eyes a more defined appearance, don't forget to apply mascara to your lower lashes as well.
Line your waterline: Your eyes and eye makeup will look much more defined and have more depth with just a hint of kajal. It helps you draw attention to the contour of your eyes and enhances the beauty of your eye makeup. You can slightly smudge out your kajal to create a smokey look for a more overt appearance. Additionally, you can line your eyes tightly with kajal to make them stand out even more.
If You want to Learn more about Makeup Join our makeup Studio training Center and learn more about Pro level Makeup Artist Course with us. Whether you're a beauty pro or relatively new to the beauty industry, you can always benefit from some extra beauty tips. We hope you try these hacks asap and love them as much as we do!