Contrary to popular belief, makeup is not intended to make you look plastic. It's more about highlighting one's inherent beauty. It is a form of undervalued art that is now receiving the respect it deserves. A makeup artist aids in highlighting one's beauty. A makeup artist assists you with all of your grooming requirements, from suggesting which products to use to dressing you up for big occasions. One might pursue their schooling and subsequent profession as a makeup artist in a variety of ways. A variety of great careers as a makeup artist is now an easily attainable ambition thanks to the increased demand for makeup artist jobs and the emergence of training centers like us that will prepare you for the same.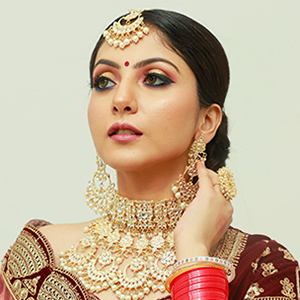 A makeup artist is free to select the type of work they wish to undertake or decide to work independently. The makeup artist has the freedom to size possibilities when they present themselves because they are freelancers who like doing bridal makeup, theater makeup, etc. Some MUAs eventually launch their own salons, product lines, or educational institutions. Others might work as independent lecturers, touring the globe to mentor budding makeup artists. Others can concentrate on publishing books or developing online courses about makeup artistry.
You also have lots of room to be versatile and creative when it comes to the other services that makeup artists can provide! For instance, a tone of MUAs also receive professional training to provide clients with additional beauty treatments. Examples include consulting on skincare, hair style, and fashion. They have the option to promote themselves using their own strategies. For makeup artists that are entrepreneurial and creative, there are countless opportunities!
The choices are truly unlimited, as you could guess. What you are enthusiastic about and what direction you wish to progress in, is what matters most in the end. Here is a list of some of the most profitable careers you can have as a makeup artist.
Bridal Makeup Artist
You'll get the chance to contribute to making a bride's special day even more memorable as a bridal makeup artist! Weddings are a reliable and excellent source of income. Bridal makeup artists are very well paid and you can take bookings according to your availability. The brides' and grooms' immediate families form a fantastic clientele. However, in order to truly prosper, the makeup artist must not only be extremely skilled at her job but also be ambitious, business-savvy, and a skilled communicator. Nothing can stop you from being a famous and in-demand makeup artist, earning a considerable amount of money, if you happen to possess all these qualities.
Special Effects Makeup Artist
For MUAs who want to enter the film, television, or theater industries, this is a fantastic career option. The work of special effects makeup artists, sometimes known as SFX MUAs, includes everything from character makeovers to the enhancing of one's natural attractiveness.
Film and television makeup
As a film and television makeup artist you'll be responsible for designing looks for actors, actresses, and other on-screen talent. This could entail anything from makeup for special effects to upgrades of inherent beauty. Depending on the project, makeup artists who work in cinema and television can expect to make a decent amount of money.
Celebrity Makeup Artist
Celebrity makeup artists are in charge of designing looks for celebrities for on-set makeup, regular applications, shoots, family events and also major red carpet events.them! This is one of the top makeup careers and is an extremely profitable choice.
The Art of Editorial Makeup
This kind of work is frequently displayed in fashion shows, magazines, and other comparable venues. You'll be in charge of designing looks that are both imaginative and visually attractive as an editorial makeup artist to promote a certain brand and/or product.
The line of work can be anything ranging from a high-end fashion show or a magazine shoot or article.
Blogger/Vlogger for makeup
A makeup vlogger or blogger is a person who produces and publishes written or video material about anything to do with beauty. Anything from product reviews to tutorials to hauls might be included in this. Creators of makeup-related content frequently use Instagram, TikTok, and YouTube as their outlets.
Makeup Educator
As an educator in the makeup industry, you will have the duty of instructing people in the art and science of cosmetics. This might entail doing anything from conducting seminars and lessons to providing lectures. You could join a prominent training center or you could hold independent makeup classes and make a tonne of money if you promote yourself well and gather a large following (through, for instance, social media).
Makeup artist for a Cosmetics Company
You will be in charge of representing the brand and promoting the items as a makeup artist for the company. Giving demos or participating in photo shoots are both examples of possible activities. Such roles offer stability and a fixed source of income every month and are lucrative options for a MUA.